Spiral gold Dacian bracelet from a batch of 13 bracelets with composition: Au = 84.2-92.9%, Ag = 6.3-16.2% and Cu = 0.4-2.1%, analyzed in DFNA with the XRF Midex M spectrometer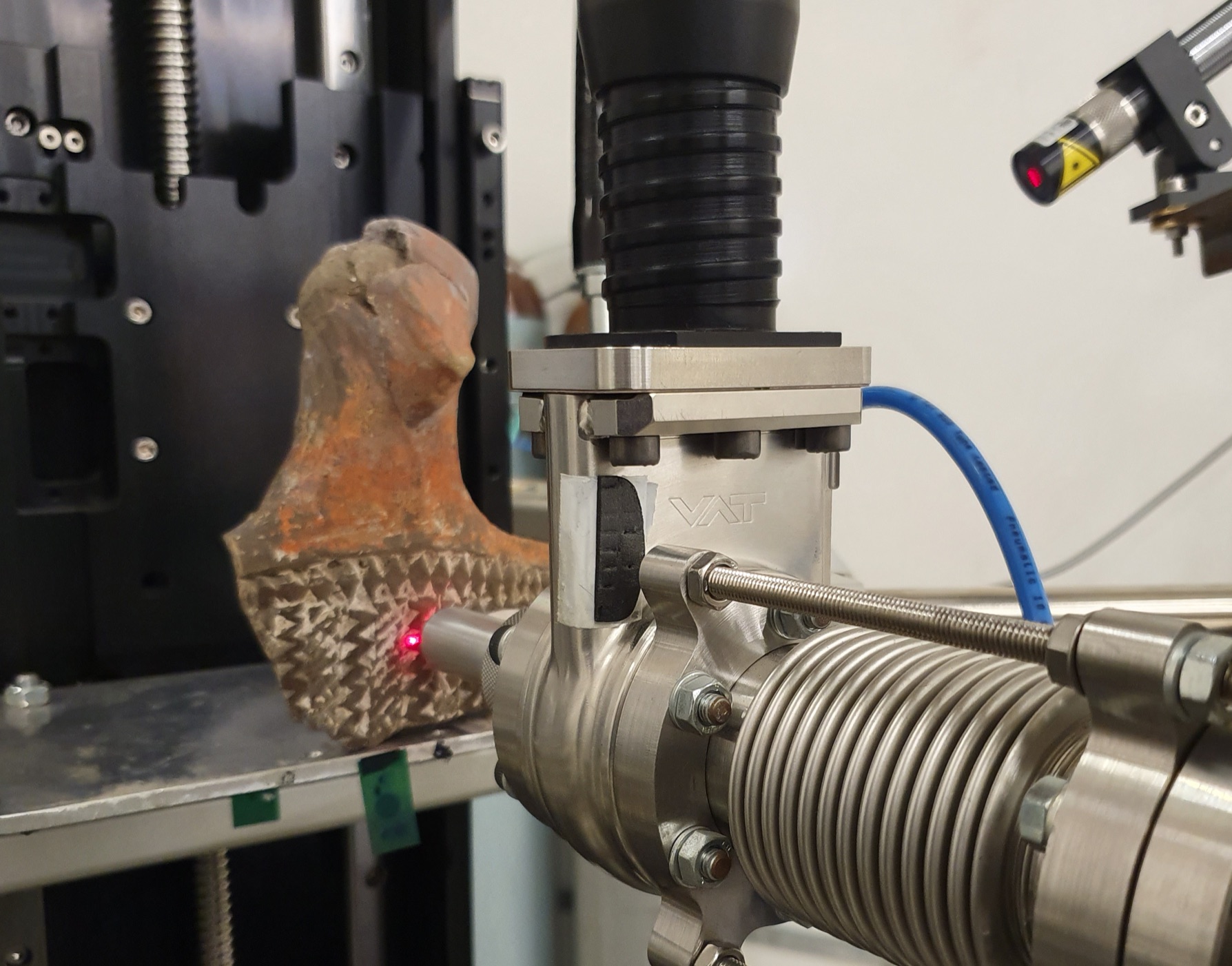 Fragment of anthropomorphic container, with polished front and covered with excised decoration and inlay with white paste, painted on the neck and face with red ocher. Smooth and undecorated back. It comes from the Neolithic site from Vãdastra, south of Oltenia, about 5200-4900 Cal. BC. Collaboration with the Institute of Archeology "Vasile Parvan"
Responsible: Roxana Bugoi, Dragoș Mirea, Daniela Stan, Mihai Straticiuc
Analytical techniques based on atomic and nuclear phenomena can be used successfully in the study of objects of art and archeology, giving archaeologists and museographers clues about the raw materials and manufacturing techniques that our ancestors had discovered and perfected. In some cases, markers / trace elements and compositional patterns may reveal complex exchange / trade networks and the origins of the artifacts under study. Physico-chemical analyzes on heritage objects prove to be extremely useful in the conservation and restoration processes, but also for testing the authenticity of artifacts proposed for purchase in museums or appeared on the art objects market - see the case of the famous Dacian bracelets, expertized in and IFIN-HH (possibly links to articles). Cultural heritage assets are subject to degradation through 'aging', a process that must be understood, both in its causes and in its dynamics, in order to find ways to prevent or slow it down. • X-ray Fluorescence (XRF - X-ray Fluorescence) using fixed spectrometers (elementary laboratory analyzes) and portable (laboratory and in-situ analyzes directly in museums, galleries, collections) allows the identification of chemical elements (from Mg to U ) present in the artefacts in a minimum concentration of tens of parts per million (ppm). The analyzed surface has a diameter of 30, and the analyzed depth of the sample can vary between tens, up to hundreds of micrometers, depending on the analyzed material and the detected element. XRF is par excellence a non-destructive technique, offering a multi-element quantitative analysis for a wide range of samples, from metal alloys to glass and ceramic artifacts.

• The ion beams accelerated using Proton Induced X-ray Emission (PIXE) at the 3 MV Tandetron particle accelerator, allow the identification and quantification of chemical elements from Na to U, present in concentrations of the order of ppm in the analyzed objects. With the help of a 3-axis sample positioning system, which moves with micrometric precision and using a proton beam with a diameter of ~ 1 mm, the artifacts can be analyzed both in vacuum and in He atmosphere, at atmospheric pressure. The probe depth is of the order of tens of microns and, as in the case of the XRF method, it depends on the density of the analyzed material and on the chemical element whose concentration is to be determined.